Why Us?

We incorporate the most advanced forms of chiropractic, massage, physical therapy, exercise and nutrition that are currently known to foster quick pain relief and peak performance.

GENTLE EFFECTIVE ADJUSTMENTS, SOOTHING MASSAGE THERAPISTS, PAINLESS PHYSICAL THERAPY AND REBUILDING EXERCISE THERAPY!

Specialty techniques include: full spine adjusting, Gonstead, diversified, activator, low force adjusting technique, deep tissue therapy, myofascial release, neuromuscular rehabilitation etc.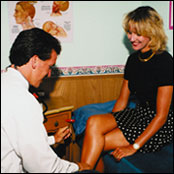 "No Wait Policy". All of our patients are seen immediately by Dr. Potter before any procedures are performed.
Expertly trained massage therapists on staff full time.
Award-winning caring and concerned office staff.
Professional but comfortable atmosphere.
Large private treatment rooms.
Convenient location with easy parking and full disability access.
Over 24 years experience serving the Elk Grove area.
ON-SITE: latest physiological therapeutics (P.T.).
Exercise and rehabilitation equipment.
We immediately verify insurance coverage and help fill out paperwork.
M.D. and attorney referrals.
Auto and workers' compensation insurance pays up to 100% in most cases.
Extensive knowledge of auto and work injuries.
Hundreds of hours of postgraduate education and training in Neurology, Orthopedics, Headaches, TMJ, Nutrition, Rehabilitation, Sports Injuries, and Whiplash.
Most insurances accepted (including Kaiser, ACN, ASHP, LANDMARK, BLUE CROSS/SHELD, SUTTER, CIGNA etc.)
Open late and weekends.